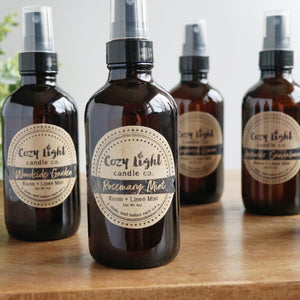 4oz amber glass bottle with fine mist sprayer in your choice of fragrance.
Give your room a burst of freshness with just a couple sprays of our Room + Linen Mist! These sprays are perfect to mist in your living room, bathroom, bedroom, closet, car, or anywhere that could use a little scented refresh! Try it on pillows, curtains, and pet beds too!

Not only does our Room + Linen Mist come in ALL available scents, but they are safe for the home and environment! We use simple ingredients that are skin safe, phthalate and paraben free! Feel free to give yourself a spritz if you choose! These are body safe, but we do recommend that if you are overly sensitive to fragrance, to test a small area first. We do not use emulsifiers in our product so make sure to always shake well before each use!

Safe to use around children and pets! Please do NOT spray directly on pets. If using on linen, make sure to spray at a distance of 12 inches minimum to prevent any oil stains. It is recommended to do a patch test first on fine fabrics.

 • Shelf Life - 2 years •

Pair our Room + Linen Mist with our scented soy candles for maximum scent throughout your home!
Nothing beats these!
I have had maybe 20 different types over the past few years and every single one is such great quality. I have been gifting them as well and I have nothing negative to say!
Love!!
This is my second purchase of cozy nights and I've also purchased apple orchard. Absolutely love both scents!!
Great room sprays!
They smell so good, natural and strong! I use it to spray around my entire house, my couch and in my car. The scent is long lasting too! They are my favorite room sprays!
Wonderful Customer Service
I ordered a room spray in the spring and decided to order another one a few weeks ago since I really like the product. I ordered a different scent and didn't love it which is on me as scents are a personal preference. I reached out to Lindsay and she provided me with amazing customer service- I was really impressed! I highly recommend this product as well as other products from this small business : )
Long lasting scent
I sprayed my sofa 2 weeks ago & I can still smell it when I sit down!